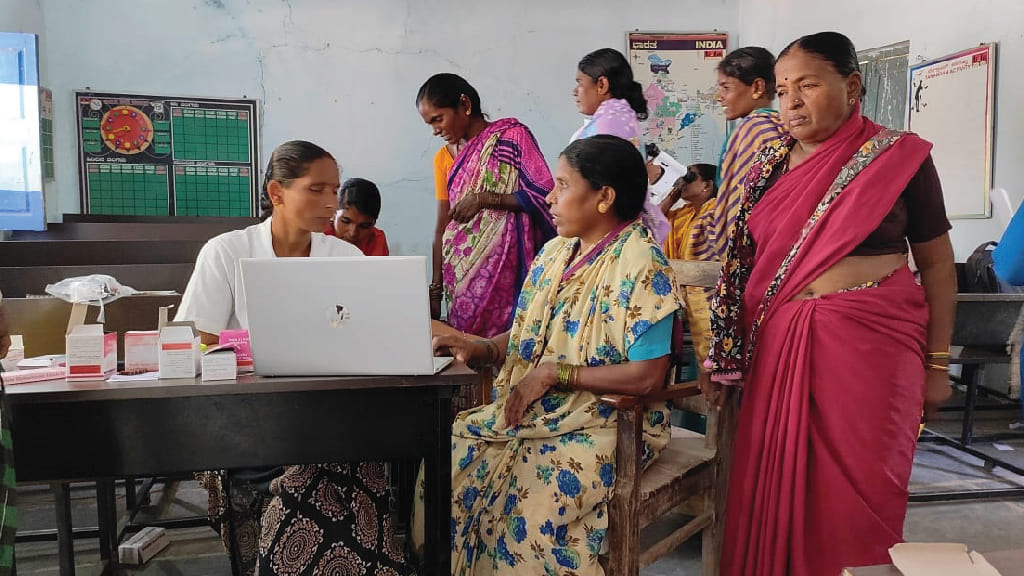 Phygital PHC FPO Camp Diary: 14th June 2023
Government School of Gonal Village, Raichur Taluk & District, Karnataka
An Eye Screening and General Health Camp was successfully organized on 14th June 2023 for farmers associated with Arya Collateral Farmers Producer Company (FPC) at the Government School in Gonal Village, Raichur Taluk & District, Karnataka.
Notable attendees included Mr Vishwanath (BOD) from Raichur FPC, Mr Vishal Sagar (Deputy Manager) and Mr Santha Murthy (Field Development Officer) from Arya Collateral FPO. Additionally, Mr Mahendra and Mr Sarvesh from Telerad Foundation represented the TF team.
The event was honoured by the presence of village Panchayat members, Gonal School Teachers, ASHA and Anganwadi workers, making it a collaborative effort towards community welfare.
A total of 164 beneficiaries underwent eye screenings, focusing on Diabetic Retinopathy (72 cases) and Refractive Errors (92 cases).
Teleconsultation services were provided to 70 beneficiaries during the camp, by Ms Uma Devi, the dedicated staff from Phygital PHC, leading the consultations.
Physician consultations were offered for various health concerns, including Diabetes, Hypertension, ENT, Gynaecology, Paediatric care, and general health issues. The camp aimed to address the specific healthcare needs of the farmers.
We express our gratitude to the Health Department Karnataka for their support in supplying generic medicines for the camp.
Arya Collateral is proud to be Bayer's FPO implementing partner, while Phygital PHC is a CSR initiative of Bayer Foundation, efficiently managed by Telerad Foundation and RxDx Healthcare.